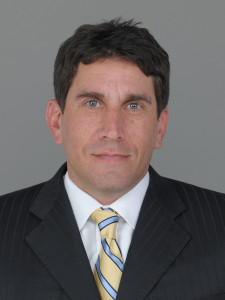 Mark Lieberman was approved by a 5-2 vote Monday night as Floyd Central's new boys' varsity basketball coach.
"I'm always excited for a new challenge," Lieberman told Hoosier Hills Hoops immediately following the school board meeting. "We can't look back, we're going to look forward … I want to help create a culture on this team of excitement. I know it's going to be a process, and I'm looking forward to that."
Lieberman spent two years working under University of Louisville head coach Rick Pitino – one as an assistant coach and one as director of basketball operations. Lieberman most recently served on the coaching staff at Florida International, his alma mater, this past season under Pitino's son, Richard.
Prior to coaching at the collegiate ranks, Lieberman was at Monsignor Pace High School for 13 seasons, leading the Miami prep power to four state championships as head coach and one as assistant. He compiled a 335-95 record while head coach.
"(Indiana high school basketball) is a hot bed, a mecca. It's legendary," he said. "I'm excited for this challenge."
Lieberman replaced Randy Gianfagna, who compiled a 63-93 in his seven seasons.