August 2, 2015
Team rosters and game schedules for the seventh-annual Hoosier Hills Hoops Fall Individual League are now available. CLICK HERE >>
→ Discuss this postCategory: Uncategorized

April 29, 2015
Press release distributed late Wednesday by Greater Clark County Schools.
Dr. Andrew Melin, Superintendent of Greater Clark County Schools, will make the recommendation to the Board of School Trustees at their meeting on Wednesday, May 6 to approve Joe Luce, USA Today's 2015 Indiana High School Coach of the Year, as the new Jeffersonville High School varsity boys' basketball coach.

"We're thrilled to welcome Joe, his wife, Amy, and their four children to Jeffersonville and into the Red Devil family," said Jeffersonville High School Athletic Director Todd Satterly. "He has a tremendous record as a basketball coach and will be an outstanding leader for our program, and mentor to our student athletes."

A native of Muncie, Indiana, Luce has served as the varsity boys' basketball coach at Richmond High School since 2009. During his time at Richmond High School, Luce compiled an overall record of 117-33, two 4A sectional champions and one regional title. He has been named the North Central Conference Coach of the Year for two consecutive years.

Prior to leading Richmond High School, Luce led the 2008 Marion High School varsity boys' basketball team to the IHSAA 4A State Championship game. The 2007 team competed at the Final Four and 2009 team in the Elite Eight.

"An impressive group of candidates were vetted and Joe Luce clearly rose to the top for his numerous coaching accomplishments," stated Satterly. "Luce will have a long-lasting and positive impact on the Red Devils basketball program and the Jeffersonville community."
→ Discuss this postCategory: Uncategorized
Tags: Jeffersonville, Joe Luce, Mait Pait, Todd Satterly
June 27, 2014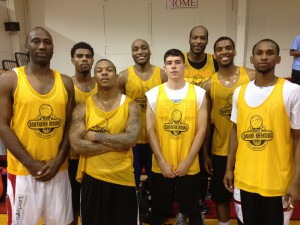 Team Southern Indiana Pro-Am held off KPA Team 1 106-91 Tuesday night at Beth Haven Christian School in Louisville to win the Kentuckiana Pro-Am Summer League championship.
TSI trailed by as many as four points midway through the third quarter before pulling away in the final frame.
Jeffersonville Class of 2006 product Antonio Ballard, who played collegiately at Miami (Ohio) and professionally last season in Canada, led the TSI entry with a game-high 42 points. He was also named the league's MVP.
Darryl Baker, a more recent Jeffersonville graduate (2013), added 24 points. The New Albany duo of TeNale Roland (2009) and Chris Whitehead (2011) added 12 and 10 points, respectively. All three were named to the KPA's All-League Team.
Bellarmine graduate Chris Dowe, a member of the Knight's national championship team in 2011, paced KPA Team 1 in defeat with 21 points. Florida International's Rakeem Buckles, who began his college career at the University of Louisville, added 20.
Other players on the TSI Pro-Am roster included: William Barber, Phil Bennett, Kegan Clark, Terrance Farley, Donnie Hale and Sean Hampton.
MOST VALUABLE PLAYER
+ Antonio Ballard, Miami (Ohio)/Canada
ALL-LEAGUE TEAM
+ Darryl Baker, Lincoln Trail
+ Chris Dowe, Bellarmine/Portugal
+ Jazzmar Ferguson, IU Southeast/Italy
+ Chartreal Hall, Bellarmine/Germany
+ TeNale Roland, Utah State
+ Peyton Siva, Louisville/Detroit Pistons
+ A.J. Slaughter, Western Kentucky/France
→ Discuss this postCategory: Uncategorized
Tags: Kentuckiana Pro-Am Summer League, Team Southern Indiana
December 30, 2013
Ali Patberg scored 22 points to lead three players in double figures Saturday evening, leading the Class 4-A No. 5 Columbus North girls' basketball team to a 66-56 victory over Class 4-A No. 9 Indianapolis Roncalli for the championship of the Subway/Columbus North Invitational.
Paige Littrell chipped in 15 points and Tayler Goodall netted 14 points for the Bull Dogs (11-1), who claimed the championship of the eight-team girls basketball event for the second consecutive season. Kelsey Cunningham contributed six points, while Debbie Gedeon had five points.
Lindsey Corsaro tossed in a game-high 23 points for the Rebels (10-2). Corsaro received support from seniors Kellie Kirkhoff and Elizabeth Bowers, who provided 16 points and 10 points, respectively.
Corsaro scored seven points and Kirkhoff had five in the first quarter as Roncalli took a 15-9 lead in the title game. However, Littrell countered with 10 second-quarter points and Goodall added five as the Bull Dogs rallied for a 29-25 edge at the half.
Patberg and Goodall each tallied five points in the third quarter, and Maliah Howard-Bass punctuated the period with a last-second 3-pointer for a 49-41 advantage at the third stop. Patberg then produced 10 fourth-quarter points and Goodall added four as Columbus North held off Roncalli's comeback attempt.
In earlier placement-round games, Mishawaka edged Park Hills (Ky.) Notre Dame Academy 61-58 for third place and Milwaukee (Wis.) Rufus King defeated Richmond 88-57 in the consolation final. Evansville Mater Dei and Dayton (Ohio) Chaminade-Julienne did not play a game in the placement round because of schedule restrictions limiting each to just two games in the event.
Taylor Parmley scored 14 points and Tagin Schultheis and Paige Avery each tallied 12 points to propel Mishawaka (11-3) to third place. Parmley scored 12 of her team-high in the first half as the Cavemen took a 31-27 lead, then held on with Avery notching eight points and Kaitlin Elsasser adding six in the fourth quarter.
Paige Kellam notched a game-high 17 points for Notre Dame (6-4). Sydney Stallman added 15 points and Hillary Hellman had 10 points.
In the consolation final, Shakeela Fowler dropped in 19 points to pace four players in double figures as Rufus King prevailed to improve to 3-5. Brooksie McWilliams chipped in 14 points, while Alaylah Hayes notched 12 points and Ashley Sally had 11 points for the  Generals.
Bailey Hillard scored 17 points and Destiny Perkins netted 15 points for Richmond (7-5), which played more than half the game without Mackenzie Taylor after Taylor was injured during the second quarter.
Other notable moments in first- and second-round games included:
Columbus North's Goodall reached 1,000 points for her career in the Bull Dogs' 78-33 first-round win over Chaminade-Julienne. She scored 14 in the game and finished the weekend with 1,040 career points. Goodall has signed to attend Florida Gulf Coast University.
Richmond's Taylor reached 1,000 points for her career in the Red Devils' 64-61 consolation-round win over Chaminade-Julienne. Taylor scored a tournament-record 37 points in the game and finished the weekend with 1,034 points. Taylor, who also scored 24 points in a first-round loss to Notre Dame Academy, is headed to Wright State University.
Columbus North's Patberg reached 1,000 points for her career in the Bull Dogs' 76-37 semifinal victory over Notre Dame Academy. Patberg scored 13 points in that game completed her weekend with 1,024 points. She has committed to Notre Dame.
Corsaro scored 24 points, Kirkhoff added 20 and Bowers had 16 as Roncalli defeated Class 3A No. 1 and previously unbeaten Mater Dei 71-59 in a first-round game. The Wildcats' Tori Schickel and Maura Muensterman countered with respective outputs of 22 points and 17 points in that game.
Muensterman poured in 34 points and Schickel netted 30 points as Mater Dei beat Rufus King 84-61 in a consolation game. Fowler paced the Lady Generals with 17 points in that contest.
Corsaro scored 27 points and Kirkhoff tossed in 18 points as Roncalli knocked off Mishawaka 71-55 in the semifinal round. Parmley paced the Cavemen with 16 points in that game.
2013 All-Tournament Team

Lindsey Corsaro, Roncalli
Kelsey Cunningham, Columbus North
Shakeela Fowler, Rufus King
Tayler Goodall, Columbus North
Kellie Kirkhoff, Roncalli
Maura Muensterman, Evansville Mater Dei
Taylor Parmley, Mishawaka
Ali Patberg, Columbus North
Tori Schickel, Evansville Mater Dei
Mackenzie Taylor, Richmond
→ Discuss this postCategory: Uncategorized
Tags: Subway/Columbus North Invitational
November 12, 2013
The membership of Conference Indiana will expand to include Terre Haute North and South high schools schools next year, it was announced Wednesday evening.
The principals of the current member schools, which includes Southern Indiana representatives Bloomington North, Bloomington South and Columbus North, voted unanimously to admit both schools into full membership effective for the 2014-15 school year.
"This action further enhances the academic, extracurricular and athletic excellence for which Conference Indiana is known," a release from the conference stated. "All schools in the new Conference Indiana are excited about the future of the conference and what this action means for the students of Conference Indiana."
Other current Conference Indiana members include Franklin Central, Perry Meridian and Southport.
→ Discuss this postCategory: Uncategorized
Tags: Conference Indiana
September 17, 2013
Charlestown native Michael Prichard was approved Tuesday night as Charlestown High School's girls' varsity basketball coach during a Greater Clark County Schools board meeting.
Prichard, a 1997 graduate of Charlestown, replaces Scott Matthews, who resigned last week before ever coaching a game.
"I understand where Coach Matthews is coming from," Charlestown athletic director Chad Gilbert said of the former coaches' surprising decision. "Spending time with his family is part of the reason I got out of coaching (at Jeffersonville). The timing wasn't good for us, but we moved fast and got a great candidate."
Prichard was captain of the school's last single-class sectional champion team in 1997. He coached freshmen boys' basketball at Charlestown from 2005-2008.
"It means a lot (to return to Charlestown) because I put in lots of hard work when I was there," said Prichard, who was junior varsity girls' coach at Eastern Pekin from 2009-2011. "To be able to get back to a community and school that I'm so passionate about is really exciting. (Charlestown) is something that's never left me. No matter where I've been as a teacher and coach, something about Charlestown always stuck with me."
The new Lady Pirates' boss also had a brief stint in small-college basketball, serving as an assistant men's coach at Spalding University in Louisville from 2008-2009.
Prichard has heard expectations about this year's girls' basketball team, and is ready to get the season underway. He will hold a team meeting Thursday.
"A lot of these girls have put in lots of time over the years to get where they're at and I hope they continue to grow as players and student-athletes here at Charlestown," he said. "I'm thankful for Chad (Gilbert) and the committee for this opportunity to give back."
→ Discuss this postCategory: Uncategorized
Tags: Chad Gilbert, Charlestown, Michael Prichard, Scott Matthews